Red Wines
These wines are produced from native vines such as Touriga Nacional, Touriga Franca, Tinta Roriz (Aragonez), Tinta Barroca and Tinto Cão. The great majority of these wines are the product of a blend of several varietals and they possess an unequalled complexity and richness that is so characteristic of the Douro. There are also good examples of single varietal wines, that is, wines produced from a single variety, especially one of the first three mentioned above.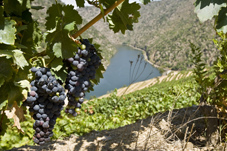 Wines to be drunk when young:  The majority of these wines are ruby red, with a well balanced body and astringency. The aroma of red fruits such as raspberries and strawberries may be complemented with floral and woody nuances. Young "Douro" wines will be appreciated in all their splendour if drunk during the first few years after they have been made.  Among these wines are reds that are more fitting to be drunk with simple meat dishes, salt cod, pasta or pizza.  They should be served at between 13º and 15ºC.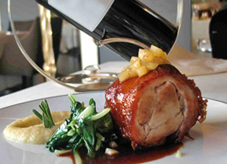 Wines to be kept for ageing:  These wines are deep in colour and possess complex and intense aromas.  When young, they show hints of black fruits, chocolate, balsamic herbs, violets and wood.  They are well-structured and have persistent tannins.  At their peak, which can take some ten years or more, their aromas are subtle and more delicate yet very complex. In the mouth, these wines are soft and velvety and well-balanced.  A significant number of the wines for ageing that are produced in the Douro bear the word "Reserve" or "Grand Reserve" on the label.

When drunk young, these wines are the ideal accompaniment for red meat dishes, such as a sirloin steak or highly-spiced roast meat, which makes them perfect for some traditional Portuguese dishes such as veal cutlets or roast kid.
Aged, they are perfect companions to game or venison.  These wines should be served cool, between 16º and 18ºC.
White Wines
There are great Douro white wines just waiting to be discovered. Dry whites are produced by blending several varietals such as Malvasia Fina,Viosinho, Gouveio and Rabigato.

Wines to be drunk when young: Pale in colour, with refreshing fruity (citrus and other tree- borne fruits) and floral aromas, these wines are well-balanced in the mouth and show their youth.  They are a good accompaniment to fish dishes and salads and may also be appreciated as an aperitif. These wines should be drunk chilled, between 8º and 10ºC.
Wines to be kept for ageing: The aromas of these wines are intense and the wines are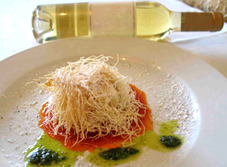 complex and usually ferment or age in wood.  In the latter case, they are golden in colour with toasty aromas and nuances of tropical fruits. They are full and long-lasting in the mouth.  We recommend that you drink them with fatty fish dishes such as salmon or salt cod, but they are equally good with chicken or rabbit dishes that are accompanied by mild sauces.  The majority bear the word "Reserve" or "Grand Reserve" designation on the label and should be served less chilled, at around 12ºC.  These wines may be kept several years before drinking.
Rosé Wines
Accompanying the worldwide consumer trend, the Douro has seen the birth of an increasing number of rosé wines. These wines are only made by lightly macerated red grapes.  They have a lovely pink colour and possess exuberant young aromas of raspberry, cherry and hard sweets.  In the mouth, one is easily captivated by their smoothness, sweetness and acidity.
These wines are ideal as an aperitif in the summer and they are perfect companions for oriental food such as dishes from Japan (sushi), India or Southeast Asia (Thai and Vietnamese food).
They should be drunk young (1 to 2 years old) and lightly chilled, between 10º and 12ºC.
Other Douro Wines
Produced in lesser amounts and mostly made from grapes grown at higher altitudes, we can still find wines with unique characteristics of their own, such as  Moscatel do Douro (a fortified white wine made solely from white Moscatel Galego grapes), Espumante do Douro (Douro Sparkling Wine - VEQPRD) and Colheita Tardia, wine made from grapes harvested very late in the season and over-matured by the effect of noble rot.